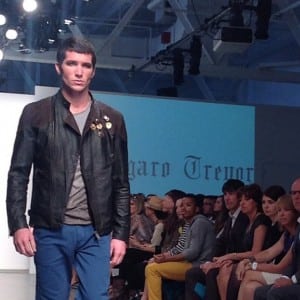 Bolongaro Trevor, who dressed The Who, is also part of Nolcha Fashion Week. British apparel brand Bolongaro Trevor's latest claim to fame is that they have just dressed The Who for the Olympics closing ceremony.  Another important detail, Bolongaro Trevor is owned by the guy who founded All Saints. Check out http://www.bolongarotrevor.com/
Even though Bolongaro Trevor wasn't performing at the closing ceremony, they still had the opportunity to dress the iconic British rock band, The Who.  Who Frontman  Roger Daltrey chose to wear British label, Bolongaro Trevor for this honorary occasion.
Kait Bolongaro and Stuart Trevor the original founders and former designers behind the cult retail store group ALL SAINTS fancied the idea of creating a new brand and called it after the pairing of their surnames Bolongaro Trevor.  The brand is a big hit with the edgy East End London crowd and celebrities,  such as Agyness Deyne, Daisy Lowe, Peaches Geldof, Pixie Geldof, Erin O'Connor, Courtney Love, Liam Gallagher & Pete Doherty. Did  I already mention Roger Daltrey?
 The devil is in the details. How do you describe this brand?  Inspired vintage?  The new collection comprises contemporary handmade pieces with clean, sharp sculptured lines, still post modern enough to cast a dark, harsh edge. Fabrics and materials are all super luxurious with buttery leather coats and unstructured jackets and dresses, some favoring military details with their brand signature of union jack flag linings.  Other parts of the fab line include superfine merino wool soft jersey separates: polos, tees, and raw edged tops, and deep crotch, military inspired wool flannel and cotton jersey pants and beautifully adorned dresses that make bold statements. Stay tuned for more fashionable inspiration.  Notes from the ground. Maybe I'll just text you a photo or two.             –Kalin J
Need to launch an SMS campaign for your brand?  Checkout our features here >>