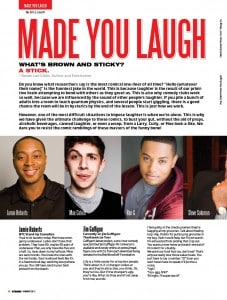 "Humor is a reminder that no matter how high the throne one sits on, one sits on one's bottom."   ~Taki
Practicing telling a joke is a lesson in humility.  Sometimes you hit it just right and sometimes, you mess up so badly you wonder why are bothering to try anything in the first place.  It takes a lot of practice to get it right every single time. So here are a few tips that we have learned about hitting it just right.
Work with the rhythm of your language.  Try speeding up your delivery and then slowing down.  Try emphasizing certain words, phrases and then whole sentences.
Increase the loudness of your voice as you approach the end of a sentence.
Try saying your punch line like it's a rhetorical question instead of a statement. Like Sam went to the store bought milk. Instead say it like Sam to the store and bought milk?  He did what?!!
At the end of your story and BEFORE your punch line, take a long pause and I mean stop completely. Whatever you do, don't ever rush to the punch line.
Try shouting out the punch line!
At ProTexting, we are not running a school for Comedians and teaching people to tell jokes, quite the contrary.  If you think about everything that goes into comedy then you can think about the messaging in every aspect of communication.  I guess talking about the key components of comedy is one more way we are getting you to be thoughtful about the text messages you are sending to your clients and customers.  You have to take time.  You really have to think about what you are doing.  Text messaging is the fastest communication on the face of the earth and its one more reason why you need to take a lot of time to think about what you want to say.  Help us celebrate humor!  Tomorrow we will have a major announcement about our comedy videos.  Stay tuned! – Kalin J.