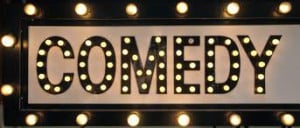 "A smile is a curve that sets everything straight."  –Phyllis Diller
Every wonder why so many Comedians live long lives?  Maybe all of that laughter is good for your heart.  If you love life and find the flip side in everything, and stay away from the excesses of the entertainment world like drugs and alcohol, laughing for a living might actually be good for you.
Take Phyllis Diller, she was a 37 year old housewife and mother of five children who took up humor and used her own domestic life as story material for her standup comedy routines. She created an alter ego Fang, a horrible hag who told what it was really like to be a miscast domestic goddess.  See the recent life story about Phyllis Diller in the New York Times. http://www.nytimes.com/2012/08/21/arts/television/phyllis-diller-sassy-comedian-dies-at-95.html?pagewanted=all
Phyllis Diller fell into show business by telling stories to other housewives at the laundryman where they congregated to swap accounts of their home lives.    She began to see the humor in their tales of woe and began using it in the advertising and publicity copy she wrote professionally. She is famous for lines such as, "Cleaning your house while your kids are still growing up is like shoveling the walk before it stops snowing."   "Housework can't kill you, but why take a chance?"
Soon she was invited to do standup at parties and P.T.A meetings.  Even though she was encouraged to get paid to make people laugh, she felt she lacked the confidence to become a professional Comedian until she read "The Magic of Believing" by Claude M. Bristol.  http://www.butler-bowdon.com/the-magic-of-believing
We know of at least one other Comedian, Wali Collins,  who was inspired by the message of empowerment, so much so that he wrote a book about to inspire people.
Stay tuned for this Thursday when we continue with our Celebration of Comedy and release our second video via our Facebook page made with Comedian Wali Collins.
–Kalin J.