We've recently added a new capability that will help you create even more powerful SMS campaigns – emojis 😀! Everyone is familiar with these cute, funny, and colorful symbols that are widely used in text messaging and social media. Until recently, however, these weren't available in SMS marketing. ProTexting is one of the first companies to introduce this feature. With emojis, you can add a new dimension to your text messages. Your younger customers, in particular, will love this feature and be more motivated to interact with your messages.
Use Emojis to Enhance Your Text Message Marketing
There are many ways that emojis can enhance your SMS campaigns. Here are just a few of the benefits.
Give your campaigns a fresh and modern look. Emojis are a major part of texting today, so this is a great way to connect with younger audiences.
Follow the lead of companies such as Domino's, where customers can place orders with emojis.
Create contests (already a powerful SMS function) and let people enter by submitting emojis.
Emojis make your text-to-screen campaigns more interesting. This makes live events more fun and will make audience members more likely to participate.
Including emojis in all of your messages will make them more fun, colorful, and engaging. Studies show that emojis increase engagement and open rates.
You can use emojis in any way that works best for your business. This exciting new feature is the perfect way to spice up your SMS campaigns and make your text messages friendlier and more expressive. Try it today: Text in 🐶 to 41242 to see how it works.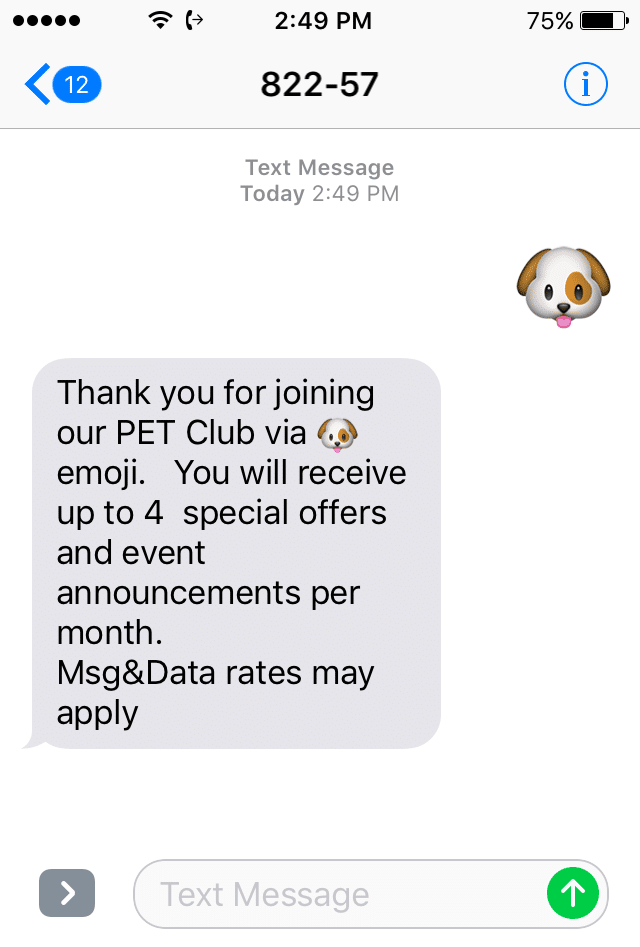 If you are ready to enhance your SMS campaigns with emoji, sign up for an account here or login to your existing dashboard.