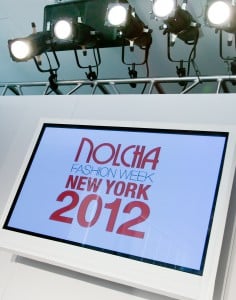 NEW YORK, Sept 4, 2012 — New York based mobile marketing company ProTexting.com has been named the official Mobile Interactive Sponsor of Nolcha Fashion Week: New York, taking place September 10th – 13th.
ProTexting.com is providing a technology platform for mobile voting whereby participants can vote on their favorite designs, the instant new looks hit the runway.  With ProTexting's technology mobile voting will happen in real time, the results will be known immediately, and every one with a mobile phone will be able to participate in the voting process.  ProTexting.com is also the technology partner providing the platform for mobile Sweepstakes and giveaways offering fabulous prizes provided by sponsors and designers. "We are thrilled to have ProTexting join us this season," says Kerry Bannigan, CEO of Nolcha Fashion Week, "It is exciting to offer our guests the ability to provide real time feedback via text and interact with our brands."
Kalin Kassabov, CEO of mobile marketing company ProTexting.com, said, "We are very excited to be a part of Nolcha Fashion Week New York. We feel that this event is a perfect fit for our interactive text technology. With our mobile voting, we are quickly giving everyone feedback in real time. The mobile sweepstakes will be fun and rewarding for everyone. Everyone likes to win and Nolcha's designers and partners have provided great prizes."
ProTexting offers a 360 degree mobile marketing platform that gives clients the ability to do more than to send group text messages.  Clients can create mobile contests, voting campaigns, coupon programs and much more.  ProTexting.com's clients can take advantage of text message interactive campaigns, QR codes, location-based marketing, social media integration, MMS, and mobile websites. The company is rapidly becoming known for having one of the most user-friendly interfaces. Customers can deploy highly successful mobile marketing campaigns that get results.   –Kalin J.