First thing you need to do is create a free Zappier account at https://zapier.com/, activate your ProTexting free Zapier app, and follow this link to join (it is invite only)
https://zapier.com/developer/invite/89164/5f2d2b05fb88f14709808b5249d699aa/
How to create a Zap with ProTexting?
SUPPORTED TRIGGERS

New inbound message (SMS or MMS): triggers when you have new inbound SMS or MMS in ProTexting.
Trigger Fields:
ID => Message ID
Mobile Phone => Phone number, including country code
Country Code => Country code only
Local Number => Local number, without country code
Message => Message content SMS or MMS
Type ID => SMS/MMS, SMS=1, MMS=2
Type Description => SMS or MMS
Resource_Link => If message is MMS, file URL
Date => Time and date of message
* You can match or filter data based on all ProTexting fields to create Zapier actions.
SUPPORTED ACTIONS

Send notification message (SMS or MMS): sends SMS or MMS based on any Zapier trigger.

If MMS used: select "File" or "Direct Media Link" as the action template setting, either option is supported.
Long SMS supported too, will be sent as MMS (automatically converted by ProTexting).
Action Fields:
Mobile Phone: mobile_phone
Message: message
Link Resource: resource_link
Create contact: adds new contact in your ProTexting account.
In our example, will show how to create a Zap with Twitter. Post a tweet for any incoming SMS in your ProTexting account.
Action Fields:
Select Group: group_id  (Dynamic Dropdown)
Mobile Phone: fnumber
First Name: ffirstname
Last Name: flastname
Email Address: femail
Click on "MAKE A ZAP" to begin the process @ Zapier.com
Choose a trigger and action

Select an account
Then, you will need to name the account. This is done in case you will be using multiple ProTexting accounts.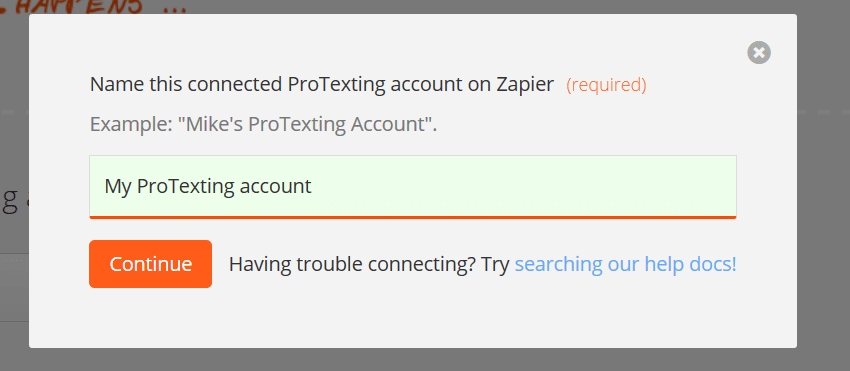 On the pop-up prompt, you will need to authenticate your ProTexting account.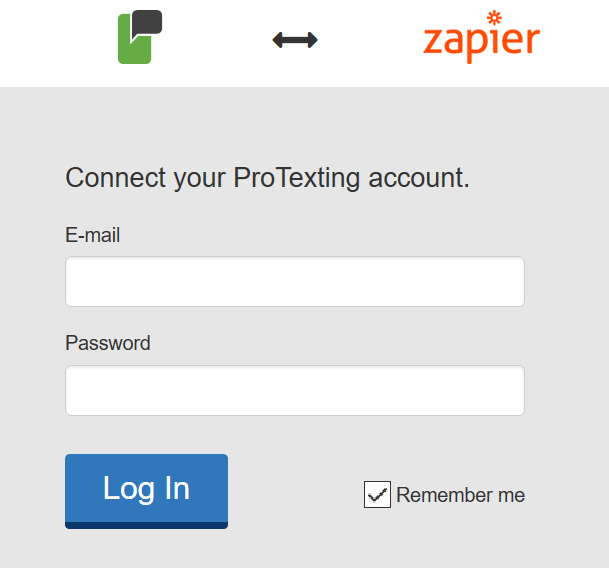 Once logged in, you will be redirected back to Zapier, where you will see a success message and an option to continue.

When both accounts are connected, you will see a confirmation screen: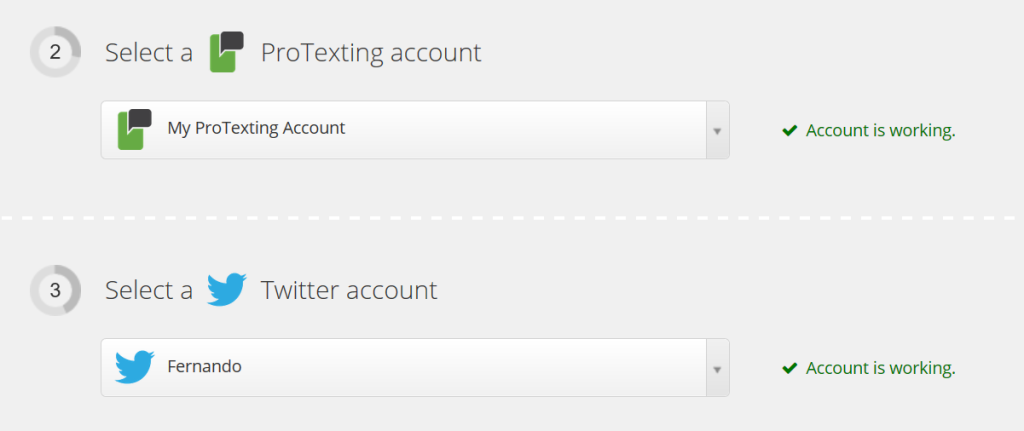 You will need to map the fields so the data is entered correctly.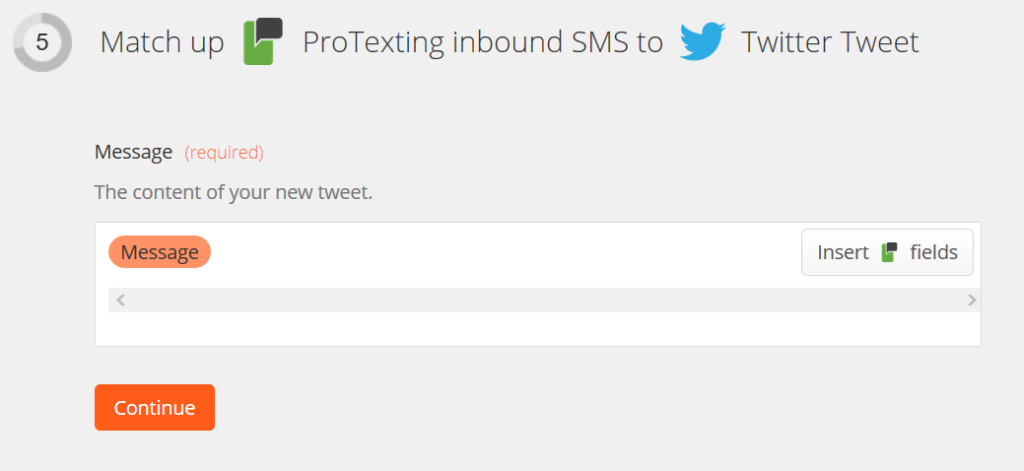 Once you've set up the zap, you will be able to test real time and get the action immediately.
After you test, your Zap is ready and you can use it.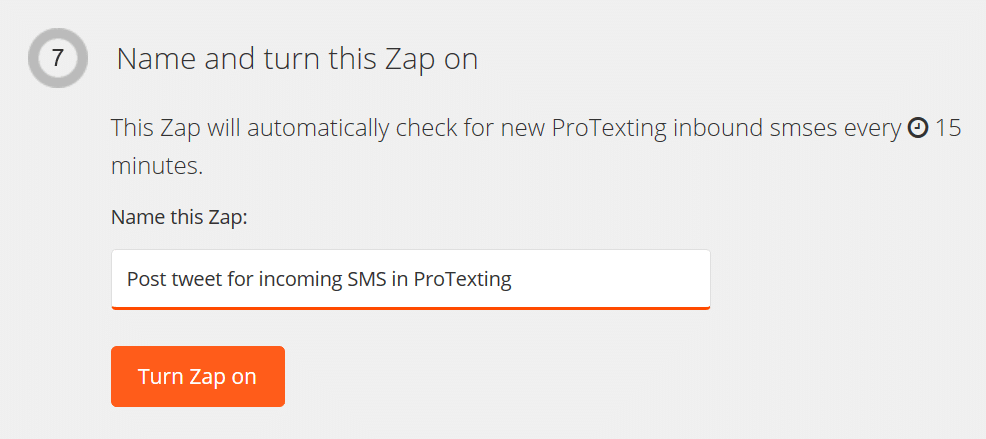 11. When you set up a ZAP for SMS notifications, you'll need to check and make sure that the MOBILE NUMBERS are formatted correctly, following examples of accepted formats:
| | | |
| --- | --- | --- |
| NAME | NUMBER FORMAT | STATUS |
| John | 12123334444 | OK |
| Maria | 12123334444 | OK |
| Paul | (212) 333 4444 | OK |
| Anna | 454554 | NOT OK |
| Heather | 646-331-7372 | NOT OK |
| Masha | (646) 331-7372 | NOT OK |
[UPDATED Jan 24, 2018]  ProTexting will check and format all mobile numbers, even if you use special characters such as: () – .   This way the messaging processing and delivery will improve and result in less rejected messages.
You are done! Enjoy using your ProTexting account with Zapier!
Don't forget that you can create a ZAP using hundreds of other services already connected with Zapier. View full list here and pick the services you utilize for your business, such as Twitter, Salesforce, Asana, Dropbox, MailChimp, Gmail, and many more…