If you're involved in SMS marketing, you may be hearing a great deal about 10DLC these days. You may be wondering, what is 10DLC and how can it help you? 10DLC is a type of 10-digit long code that makes it efficient and affordable for businesses to send SMS messages in bulk.
10DLC provides the advantages of other formats such as short codes, toll=free numbers, and local long codes at lower costs. In this article, we'll examine what 10DLC is and why it's a great option for businesses that want to get more out of their SMS campaigns. We'll also be covering how to setup 10DLC.
How 10DLC Can Help Your SMS Marketing Campaigns?
SMS or text message marketing has been growing in popularity as businesses seek more effective ways to stay in touch with their customers. Research shows that open rates for text messages are much higher than for email. Furthermore, the average person reads a text message within seconds of receiving it. Once customers give permission to receive text messages, businesses can send them targeted messages such as coupons, news about upcoming events, and special promotions.
The challenge for businesses using SMS marketing is to reach their customers reliably, create affordable campaigns, and connect with both mobile phones and landlines. 10DLC technology is making this type of marketing more accessible and profitable to businesses of all types, including restaurants, salons, retail stores, and medical practices. Schools, religious organizations, and nonprofits also use text messaging to stay in touch with their members.
What is 10DLC?
10DLC, which stands for 10-digit Long Code, is a new messaging option created by mobile carriers for businesses to send bulk SMS messages. These codes, also called commercial long codes, are designed for sending a high volume of messages at a low cost. They are a viable alternative to short codes, local long codes, and toll-free numbers.
10DLC, or 10-digit Long Code messaging, is a new type of long code that lets businesses send high volumes of messages to customers. It has several advantages over both short codes and local long codes, making it possible to send bulk messages at a low cost. It also provides greater accountability so carriers can monitor and eliminate spam. 10DLC is being implemented by major carriers and is rapidly becoming the new standard for SMS messaging.
A2P and P2P Messaging
10DLC is a type of A2P messaging that works with local landline numbers. A2P, or application-to-person messaging, is a technology that lets businesses send text messages to customers via computer. The other type of messaging is P2P (Person-to-Person), which is how people generally text for social and non-business purposes.
While A2P messaging has been around for years, 10DLC is a new development that makes the process cheaper and faster. It also makes the process more accountable, to prevent issues such as spamming via text message. 10DLC makes it practical and affordable for small as well as larger businesses to communicate with customers with text messaging.
The Evolution of Text Message Marketing
To put 10DLC in perspective, let's take a look at the brief but very active history of SMS marketing.
While email marketing has been around since the early days of the commercial internet, text messaging SMS marketing is a more recent development. Texting on mobile phones has been available since the early 1990s. However, it wasn't until the 2000s when smartphones were created and texting became widespread.
Back in 2003, ClickZ reported that short codes were growing in the U.S., despite weak demand compared to other parts of the world. This situation, of course, changed a lot since then.
Another development in 2003 involved the popular TV show American Idol, which helped to popularize the practice of text-to-vote, allowing millions of fans to text in their choices.
In 2011, Apple introduced iMessage, which got millions of smartphone users more comfortable with messaging on their phones.
By 2017, Americans were sending over 15 million texts per day.
As we enter the second decade of the 21st century, smartphones, apps, and text messaging are likely to grow even more. 10DLC will make it easier for businesses to get the most out of SMS marketing.
Why Businesses Are Embracing SMS
There are several reasons that more businesses are using text marketing, either as a supplement to or as a replacement for other, less effective strategies.
10DLC is the latest development in the quickly-evolving world of SMS marketing.
Challenges of SMS Marketing
Despite the advantages, SMS marketing has its own challenges for businesses.
SMS campaigns must be affordable to businesses.
Explaining the benefits to customers.
Reliable technology that allows messages to be sent quickly.
Technology must be compatible with customers' phones. For example, people have many different mobile carriers and some only have landlines.
Choosing the right format, such as short codes or long codes.
10DLC has the potential to address the above issues and make SMS marketing more efficient, affordable, and simple for businesses and their clients.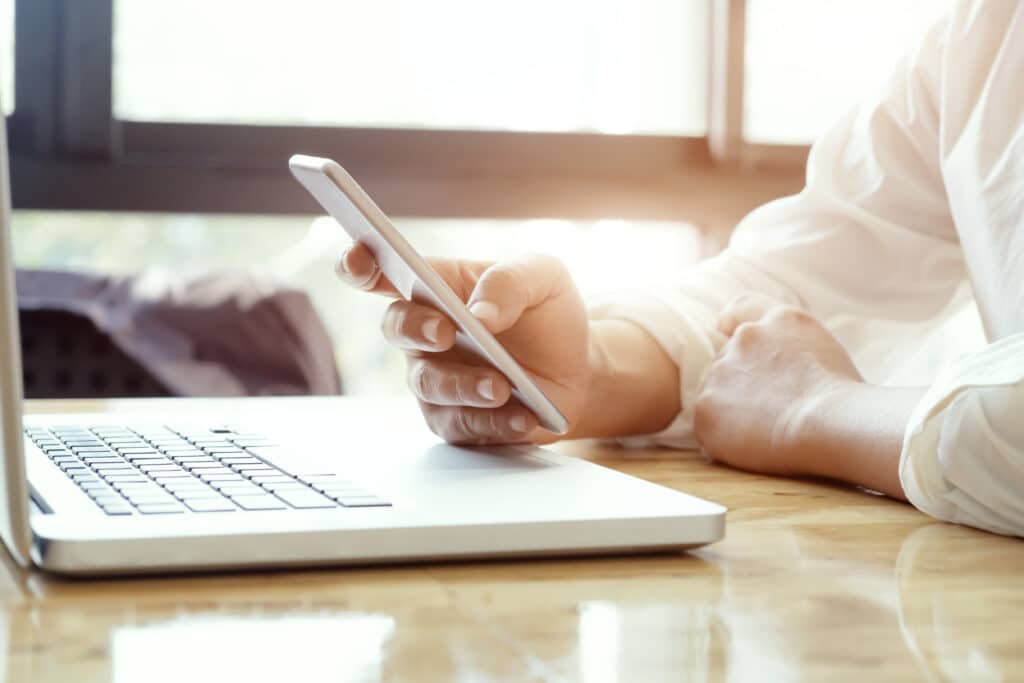 SMS Options
Let's take a brief look at the major options open to businesses that want to reach their customers with text messages.
Short Codes
Short codes are 5 or 6 digit numbers that allow businesses to send high volumes of text messages quickly. This type of A2P messaging is very efficient. Another advantage is that short codes are easy for customers to remember. The main downside is that it's quite costly for businesses.
Local Long Codes
Unlike short codes, long codes are 10-digit numbers that appear the same as any other phone number. This is a strong benefit, as people are likely to trust these numbers. Local long codes, however, are not designed for bulk sending.
Toll-free Long Codes
These are a type of toll-free number that supports text messaging as well as voice calls. A major drawback of toll-free long codes is that they are relatively slow at sending messages and aren't the best solution for sending bulk messages.
Top Features of 10DLC Messaging
10DLC numbers are a new messaging option that, in many ways, captures the best features of short codes and long codes. Let's explore why 10DLC is likely to become the new standard for SMS marketing.
Allows for High Volume Messaging
A small business, or one just starting out, may not need to send a huge volume of text messages. However, a feature of any effective marketing strategy is that it gives you the chance to scale up. For example, if you're sending emails, you can grow your email list from 100 to 100,000 and even larger. The same is true for text messages. 10DLC allows for higher volume messaging than is possible with local long codes or toll-free numbers.
Cost-Effective
As noted, short codes are great for high volume messaging but they are costly. With 10DLC, businesses can send thousands of messages per month for only a few dollars.
Greater Accountability
Spam is a widespread problem in marketing. While, technically, spam refers to email, the same principle holds when it comes to unwanted phone calls and text messages. According to Statista, the average American receives close to 15 spam text messages per month. Mobile carriers are concerned about protecting their customers from unsolicited text messages. A basic principle of responsible SMS marketing is to always get permission from customers.
With short codes, many businesses may share a number, making it difficult to hold any particular sender accountable. If there's a complaint, a carrier doesn't want to shut down an entire short code and disrupt many legitimate operations. With 10DLC, each business has a dedicated number, making it fully accountable. This, of course, means that businesses that use 10DLC must be conscientious about complying with laws and carrier policies.
Works With Landlines
One of the most impressive developments in SMS technology is the ability to send text messages using landlines. This means businesses can send texts from their own landlines as well as to customers on landlines. Not everyone realizes it, but most modern landlines are enabled for text as well as voice. This capability works well with 10DLC, allowing a business to send texts with their current phone numbers.
Is 10DLC the Future of SMS?
There are signs that 10DLC isn't merely another way to send messages but will become the standard for this type of communication. As we get further into 2021, major carriers are all starting to roll out 10DLC. This includes:
AT&T
US Cellular
Verizon
Sprint
T-Mobile
In addition to the above and other carriers, Amazon is also getting on the 10DLC bandwagon. Amazon Pinpoint, the retail company's inbound marketing communication service, allows users to send SMS messages to anyone in the United States.
Why Businesses Should Embrace 10DLC in 2021
We've already looked at some compelling reasons to use SMS messaging for business, such as open rates and fast response time. There are also reasons to adopt 10DLC technology, which is gearing up to be the future of SMS marketing. Let's list the top 5 reasons to get in on this as early as possible.
P2P Long Codes For Business are Being Phased Out
For businesses that use person-to-person for texting to customers, you won't be able to do this much longer. Carriers are going to stop allowing businesses to send messages using long codes that are meant for P2P communication.
Helps You Scale Your SMS Messaging
As you collect more numbers from customers, you can send out more messages. The more messages you send out, the more valuable it is to be able to send high volumes of messages out quickly. You may want to inform customers about time-sensitive deals or an upcoming event, for example. 10DLC is designed for sending out high volumes of messages.
10DLC is Great For Building Trust
Although 10DLC long codes are designed for business, they are dedicated numbers that let you use your own number. Customers can easily recognize who is messaging them. This is an advantage over toll-free numbers (which are often associated with telemarketers and large companies) and short codes.
Better Service
When it comes to texting campaigns, deliverability is a major issue. If recipients don't actually receive a message, it doesn't help you. 10DLC numbers are sanctioned by carriers for business use, making it more likely that messages will be delivered.
Build Brand Identity
It's still early as major carriers are just starting to roll out 10DLC in 2021. This is a good time to register your business name and dedicated number, something that will become part of your brand. Just as it's good to register a domain name with your business name before someone else does, it makes sense to brand your 10DLC now.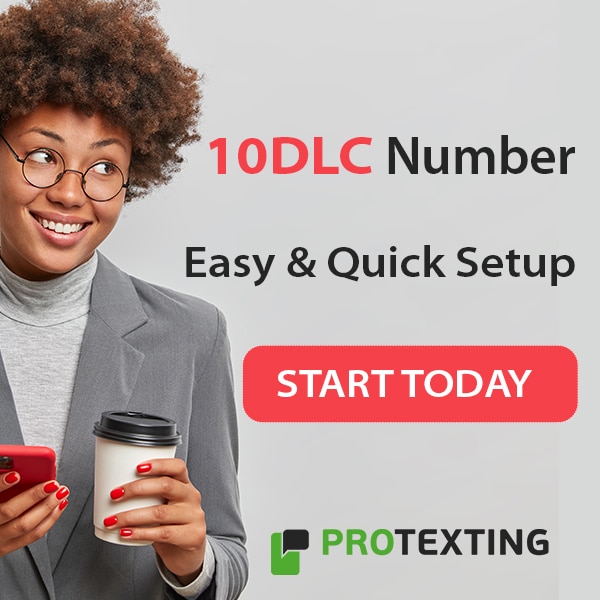 How to Set Up 10DLC
For the reasons we've covered, it's a good idea to get in on the ground floor of 10DLC technology. Let's look at the steps you need to take to get started.
Contact a reputable SMS provider. If you already have such a service, you can ask them if they offer 10DLC or plan to introduce it. If not, you may want to look for another provider.
Submit your application. You'll need to give your company name, contact info, type of SMS marketing, and estimated volume of messaging. Your trusted aggregator will submit the application on your behalf.
Once the number is approved, it will be attached to your account. The approval time usually ranges from 2 to 7 days.
Is 10DLC the Future of SMS Marketing?
Anyone who is involved with SMS marketing, or has plans to get started in this growing field, should learn as much as possible about 10DLC. While it's not your only option, it can serve many purposes and help you run faster and more profitable campaigns.
While carriers are just starting to roll out 10DLC now, things are moving fast. If you want to get the most out of text message marketing, now is the perfect time to leverage this new technology.
Start your
FREE TRIAL Today
🤳
OR
Book a DEMO